Are you in need of transportation services near Cincinnati and Dayton? Are you torn between taking a taxi, Uber, Lyft, or booking through a private transportation company? There are many reasons why you may need a lift — perhaps you have a Christmas or New Years work party you are hoping to attend, a winter wedding, or you are traveling on business to meet a client.
No matter what your transportation needs are, there is no better way to travel than through a private car service company. Private transportation companies offer far more than your typical taxi or ridesharing company, offering the ultimate style and luxurious experience. Here are a few reasons why you should opt out of taxis, Uber, and Lyft and enjoy a hassle-free, comfortable, and convenient ride with a private car service company, such as Ohio Luxury Transport, instead.
Private Drivers Are More Experienced
If you are a frequent taxi, Lyft, or Uber rider, you know that some drivers have you hanging onto the grab handle and kissing the ground once you've finally made it to your desired location. These drivers are typically only in the business to make ends meet or gain some additional income for hobbies. Drivers with private car service companies, however, have made chauffeuring their career. These drivers are typically more experienced and have a greater commitment to customer service.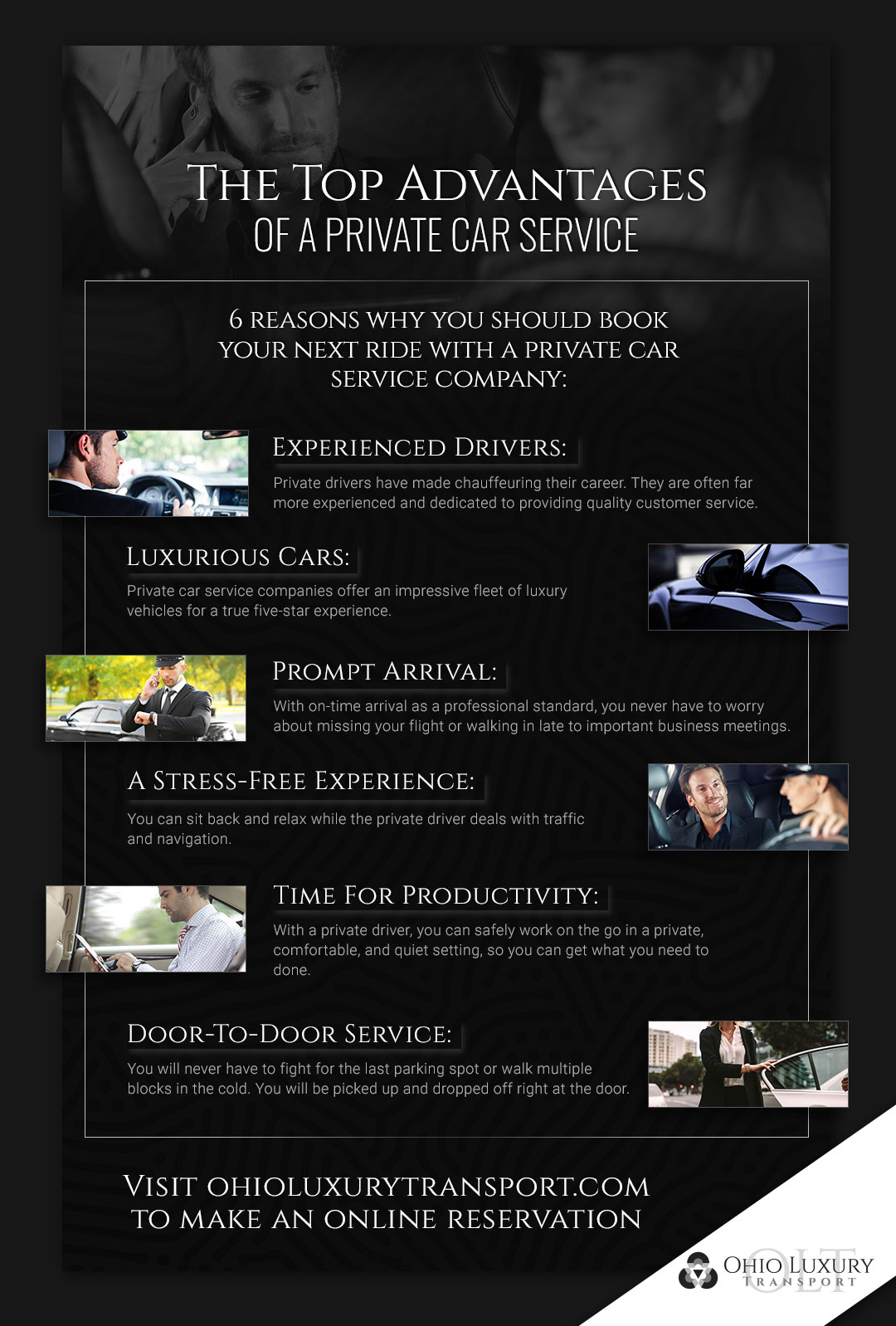 The Cars Offered Are More Luxurious
While you can opt for Uber and Lyft black car services, private car service companies often have an even more impressive fleet of luxury vehicles that are cleaned before every ride for a true five-star experience.
You Will Get To Your Destination On Time
Non-private transportation services can be unreliable. When you book with a private car service company, you can rest assured that your driver will be there on time to get you where you need to be promptly. You will never have to worry about missing your flight or showing up late to an important business meeting or event.
You Can Sit Back And Relax
No one likes dealing with traffic or trying to navigating unfamiliar roads. When you book transportation with a private car service, you don't have to! You can simply sit back and relax while our professional drivers get you where you need to go safely.
You Have More Time To Be Productive
Life is busy and sometimes you need to take advantage of every free moment you have — including your time en route. When you book with a private car service company, you free up the time you would have spent driving working on the things you need to get done. Now that is productivity at its finest.
You Can Enjoy Door-To-Door Service
There is nothing worse than trying to find parking around a busy airport when you are running late for your flight or having to walk six blocks from the parking garage in -18 degree Ohio weather to attend an important business meeting. With private transportation, you don't have to. We will happily pick you up and drop you off right at the door.
Why settle for average, when you could go big with affordable private transportation services? If you are looking for a top-rated private car service company near Cincinnati and Dayton, look no further than Ohio Luxury Transport. Contact us today to book your ride.